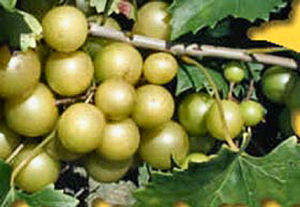 North Carolina State Fruit: Scuppernong Grape
Courtesy: State Library of North Carolina
North Carolina Law
The following information was excerpted from the North Carolina General Statutes, Chapter 145.
Chapter 145 - State Symbols and Other Official Adoptions.
Section 145-18.
§ 145-18. State fruit and State berries.
(a) The official fruit of the State of North Carolina is the Scuppernong grape (Vitis genus).
(b) The official red berry of the State is the strawberry (Fragaria genus).
(c) The official blue berry of the State is the blueberry (Vaccinium genus).
(2001-488, s. 1.)
Additional Information
Fruit, Scuppernong grape: The State Library of North Carolina Encyclopedia - State Symbols.
Muscadines & Scuppernongs: Auman Vineyards, Fayetteville, North Carolina.
Muscadine grape, Southern Fox Grape (Vitis rotundifolia Michx.): Purdue University - Horticulture & Landscape Architecture.
Vitis rotundifolia (Muscadine): USDA, NRCS. 2004. The PLANTS Database, Version 3.5 (http://plants.usda.gov). National Plant Data Center, Baton Rouge, LA 70874-4490 USA.
Vitis rotundifolia Michx.: Integrated Taxonomic Information System (ITIS) Here you will find authoritative taxonomic information on plants, animals, fungi, and microbes of North America and the world.
State Fruit: Complete list of official state fruit.
More symbols & emblems: Complete list of official North Carolina state symbols.
Mother Vine: North Carolina History Project.
History of the Mothervine: The Mothervine, LLC, dedicated to 1) the preservation, propagation and dissemination of The Mothervine, a scuppernong plant that is over 400 years old on Roanoke Island, North Carolina and 2) education of the public about the exciting early history of America dating back to 1584.
Muscadine Grapes in the Home Garden: North Carolina State University Horticulture Information Leaflet, published by the North Carolina Cooperative Extension Service.

: by R.C. Cool, Manager - Southern Pines Grape Nursery. Raleigh, N.C. Edwards & Broughton Printing Co. 1913.
Garden tools from Amazon.com!
Custom Search