1997 Virginia Senate Bill No. 801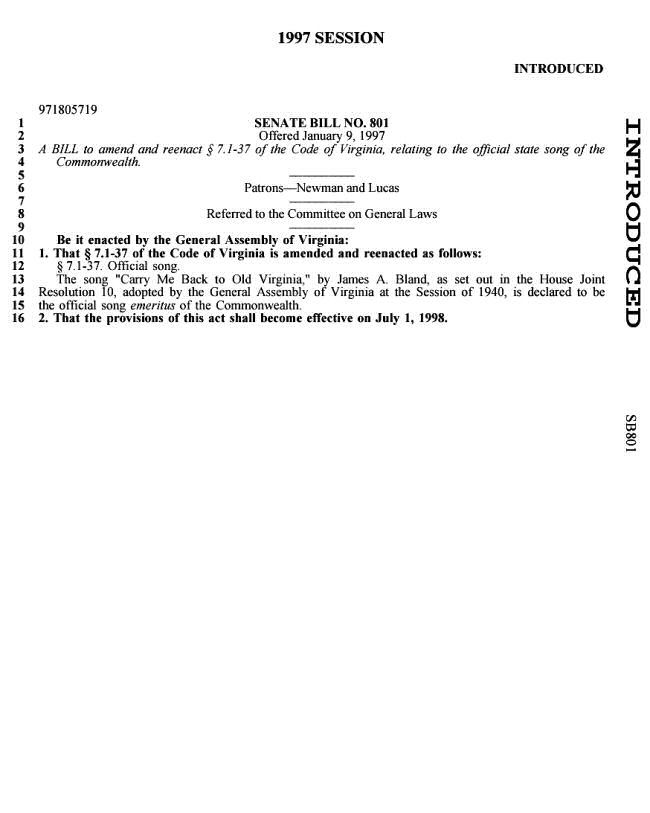 1997 Senate Bill No. 801 as Introduced
Code of Virginia
The following information is excerpted from the Virginia General Statutes, Title NO, Chapter NO, Section NO. The words and the sheet music are included within the statute.
TITLE 7.1. BOUNDARIES, JURISDICTION AND EMBLEMS OF THE COMMONWEALTH....
CHAPTER 5. Song, Floral Emblem, Official Dog, Shell, Beverage, etc. of the Commonwealth...
SECTION 7.1.37. Official song emeritus

§ 7.1-37. Official song emeritus. The song "Carry Me Back to Old Virginia," by James A. Bland, as set out in the House Joint Resolution 10, adopted by the General Assembly of Virginia at the Session of 1940, is declared to be the official song emeritus of the Commonwealth.

    (Code 1950, § 7-35; 1966, c. 102; 1997, c. 576.)
---
Source: Virginia General Assembly, (http://legis.state.va.us/), December 13, 2004