---
John Tyler (1790-1862)
In Article II, Section 1 of the Constitution of the United States of America, the following requirements are stipulated for those wishing to hold the office of the President of the United States.
No person except a natural born Citizen, or a Citizen of the United States, at the time of the Adoption of this Constitution, shall be eligible to the Office of President; neither shall any Person be eligible to that Office who shall not have attained to the Age of thirty-five Years, and been fourteen Years a Resident within the United States.
10th President of the United States (1841-1845)
Dubbed "His Accidency" by his detractors, John Tyler was the first Vice President to be elevated to the office of President by the death of his predecessor.
Born in Virginia in 1790, he was raised believing that the Constitution must be strictly construed. He never wavered from this conviction. He attended the College of William and Mary and studied law.
Serving in the House of Representatives from 1816 to 1821, Tyler voted against most nationalist legislation and opposed the Missouri Compromise. After leaving the House he served as Governor of Virginia. As a Senator he reluctantly supported Jackson for President as a choice of evils. Tyler soon joined the states' rights Southerners in Congress who banded with Henry Clay, Daniel Webster, and their newly formed Whig party opposing President Jackson.
John Tyler:

Source:

University of Virginia: Miller Center of Public Affairs, John Tyler, 28 November 2009 <www.millercenter.virginia.edu>.
10th President of the United States
Born:
March 29, 1790, Charles City County, Virginia.
Nickname:
"Accidental President," "His Accidency"
Education:
College of William and Mary (graduated 1807)
Religion:
Episcopalian
Marriage:
March 29, 1813, to Letitia Christian (1790-1842), June 26, 1844, to Julia Gardiner (1820-1889)
Children:
First Marriage: Mary (1815-1848), Robert (1816-1877), John (1819-1896), Letitia (1821-1907), Elizabeth (1823-1850), Anne Contesse (1825), Alice (1827-1854), Tazewell (1830-1874). Second Marriage: David Gardiner (1846-1927), John Alexander (1848-1883), Julia Gardiner (1849-1871), Lachlan (1851-1902), Lyon Gardiner (1853-1935), Robert Fitzwalter (1856-1927), Pearl (1860-1947)
Career:
Lawyer
Political Party:
Democrat, Whig
President:
Almost 1 term (Almost 4 years) from 1841-1845.
Age at inauguration:
51
Died:
January 18, 1862, Richmond, Virginia.
Interred:
Hollywood Cemetery, Richmond, Virginia.
The Whigs nominated Tyler for Vice President in 1840, hoping for support from southern states'-righters who could not stomach Jacksonian Democracy. The slogan "Tippecanoe and Tyler Too" implied flagwaving nationalism plus a dash of southern sectionalism.
Clay, intending to keep party leadership in his own hands, minimized his nationalist views temporarily; Webster proclaimed himself "a Jeffersonian Democrat." But after the election, both men tried to dominate "Old Tippecanoe."
Suddenly President Harrison was dead, and "Tyler too" was in the White House. At first the Whigs were not too disturbed, although Tyler insisted upon assuming the full powers of a duly elected President. He even delivered an Inaugural Address, but it seemed full of good Whig doctrine. Whigs, optimistic that Tyler would accept their program, soon were disillusioned.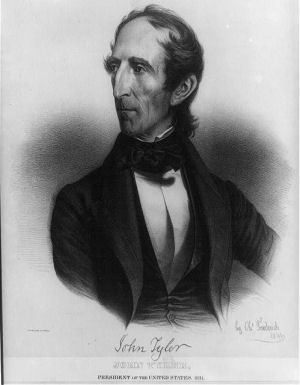 John Tyler, President of the United States, 1841
Library of Congress Prints and Photographs Division
Digital ID: cph 3a09916
Tyler was ready to compromise on the banking question, but Clay would not budge. He would not accept Tyler's "exchequer system," and Tyler vetoed Clay's bill to establish a National Bank with branches in several states. A similar bank bill was passed by Congress. But again, on states' rights grounds, Tyler vetoed it.
In retaliation, the Whigs expelled Tyler from their party. All the Cabinet resigned but Secretary of State Webster. A year later when Tyler vetoed a tariff bill, the first impeachment resolution against a President was introduced in the House of Representatives. A committee headed by Representative John Quincy Adams reported that the President had misused the veto power, but the resolution failed.
Despite their differences, President Tyler and the Whig Congress enacted much positive legislation. The "Log-Cabin" bill enabled a settler to claim 160 acres of land before it was offered publicly for sale, and later pay $1.25 an acre for it.
In 1842 Tyler did sign a tariff bill protecting northern manufacturers. The Webster-Ashburton treaty ended a Canadian boundary dispute; in 1845 Texas was annexed.
The administration of this states'-righter strengthened the Presidency. But it also increased sectional cleavage that led toward civil war. By the end of his term, Tyler had replaced the original Whig Cabinet with southern conservatives. In 1844 Calhoun became Secretary of State. Later these men returned to the Democratic Party, committed to the preservation of states' rights, planter interests, and the institution of slavery. Whigs became more representative of northern business and farming interests.
When the first southern states seceded in 1861, Tyler led a compromise movement; failing, he worked to create the Southern Confederacy. He died in 1862, a member of the Confederate House of Representatives.
Source: The White House: Presidents, John Tyler 28 November 2009 <www.WhiteHouse.gov>.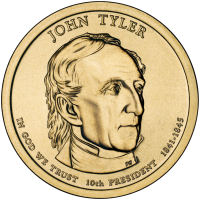 U.S. Mint Image

Presidential Dollars
Collector's Archive
Born in 1790 to a prominent Virginia planter family, John Tyler was a lawyer by training. He served as a Virginia state delegate and governor, U.S. Representative, U.S. Senator and vice president for one month under William Henry Harrison.
Tyler became the first vice president to take office upon the death of the sitting president. At that time, the U.S. Constitution was not clear on succession, and his entire presidency was dominated by questions on the scope of his Presidential powers, earning him the nickname "His Accidency" While many believed he should be recognized only as an acting president with limited powers, Tyler set an important precedent by assuming all the duties and powers of an elected president.
His independent streak caused him to lose favor with his political party, the Whigs, and practically his entire cabinet resigned in protest over his veto of a national bank bill. He championed the cause of Texas statehood, a controversial proposition at the time. After much political wrangling, he signed the bill annexing Texas just three days before leaving office after his defeat in the election of 1844. He retired to his Virginia home, Sherwood Forest, named to reflect his political "outlaw" status. He died in Richmond, Virginia, in 1862.
Coinage Legislation under President John Tyler
Act of March 3, 1843: This act regulated the legal-tender value of foreign gold and silver coins in the United States.
Act of March 3, 1843: This act prescribeds the manner in which oaths may be taken by officers of the branch Mint.
United States Mint Directors appointed by President John Tyler
President John Tyler did not appoint a Director of the United States Mint.
Source: The United States Mint, John Tyler Presidential $1 Coin. 28 November 2009 <www.USMint.gov>
Presidential state dollars: Information about design of the Presidential $1 Coins.
Presidential $1 Coins: Release information regarding the Official U.S. Mint Presidential $1 Coins.
Additional Information

The Presidents
Collection DVD
United States Presidents: List of all United States Presidents from NETSTATE.COM.
John Tyler, Tenth Vice President (1841): The United States Senate: Arts & History.
Presidential Oath of Office: John Tyler Presidential Inaugurations is presented by the Library of Congress, and other governmental departments, in collaboration with the Avalon Project at the Yale Law School. This presentation includes diaries and letters of presidents and of those who witnessed inaugurations, handwritten drafts of inaugural addresses, broadsides, inaugural tickets and programs, prints, photographs, and sheet music.
John Tyler America's Story from America's Library, the Library of Congress.
American Presidents: Life Portraits A Site to Complement C-SPAN's 20th Anniversary Television Series, American Presidents: Life Portraits.
John Tyler (1790 - 1862) American President: An Online Reference Resource from the Miller Center of Public Affairs, University of Virginia. In-depth information reviewed by prominent scholars on each President and administration.
John Tyler Public Broadcasting's American Experience: The Presidents.
Senator John Tyler: Biographical information from the Biographical Directory of the United States Congress.
John Tyler (President of the United States, 1841-1845): United States Library of Congress: Presidents as Poets - Tyler as Poet.
Sherwood Forest Plantation: Home of President John Tyler: Sherwood Forest Plantation was the home of the 10th U.S. President John Tyler from 1842 until his death in 1862. Sherwood Forest Plantation has been the continuous residence of the Tyler family since the President purchased it in 1842. Known to be the longest frame house in America, it is over 300 feet long. Sherwood Forest Plantation reflects the lifestyle of this mid-19th century Presidential family. Beautifully wooded landscape and 12 dependencies surround President Tyler's home.

Deluxe Presidential
Dollar Coin
Traveling Archive
Deluxe Presidential Dollar Coin - Traveling Archive , Whitman Publishing (August 7, 2007) Lift off the capsule top, insert the coin, and snap it shut. Now your Presidential dollar is securely stored and attractively displayed - you can even see the coins's edge, which includes the date, mintmark, and inscriptions. Space for both Philadelphia and Denver Mint Coins. Includes Presidential facts printed on the inside flaps. Holds 80 coins - makes a great display and storage unit. (13.375" x 11.5" x 1.0").

Presidential Dollars
Collector's Archive
Presidential Dollars Collector's Archive, Whitman Publishing (August 7, 2007) In December 2005, Congress approved the creation of a new dollar coinage, known as Presidential dollars, and President George W. Bush signed the legislation into law shortly afterward. During each year from 2007 to 2016, four different dollar designs, each bearing the image of a different president, are being released. Living presidents, both current and former, are excluded from the program--thus the roster of presidential honorees currently stands at 37. For these presidents, 38 coins are planned; this is because Grover Cleveland, who to date is the only president to serve multiple nonconsecutive terms, will be represented with two coins. The Presidential dollars are part of the Golden Dollar Program and retain the same golden color as the Sacagawea dollars. The motto IN GOD WE TRUST appears in edge lettering--a first for a U.S. coin, as the motto has never before appeared on the rim. The year of issue is likewise on the rim. Archive Size 11.25" x 10". 40 Openings.

Presidential Folder
Volume I
Presidential Folder 4 Panel - Volume I and Vol II, Whitman Publishing; 1st edition (April 10, 2007) Presidential Folder 4 Panel - Volume I & II Hold P&D Mint Marks. Folder Size 7" x 9,5". Each Volume has 44 Openings - 4 Panels.


John Tyler
Mike Venezia
John Tyler (Getting to Know the US Presidents), by Mike Venezia. 32 pages. Publisher: Children's Press(CT) (September 2005) Reading level: Grades 3-4. Mike Venezia mixes facts with humor to introduce the presidents of the United States to students. This unique introduction highlights the life and times of President John Tyler. Venezia uses funny and serious anecdotes to help students understand and realize that presidents are very real people. On each page is either a painting, an engraving, a map, a portrait, or a comical caricature that enhances the text. Captions are included with each that explains the historical paintings and portraits. For reports or pleasure, students will enjoy.


John Tyler
America's 10th President
Betsy Ochester
John Tyler: America's 10th President, by Betsy Ochester. 112 pages. Publisher: Scholastic Library Publishing (September 2003) Reading level: Grades 6-8. A biography of the Virginian who became tenth president of the United States upon the death of William Henry Harrison. A brief "Fast Facts" includes: time line, glossary, historic sites, Web sites, and index. Books for further reading. Tables of all the presidents noting dates of office, birth, and death, and birth-place.


John Tyler
Oliver P. Chitwood
John Tyler: Champion of the Old South, by Oliver P. Chitwood. 496 pages. Publisher: American Political Biography Press; Revised edition (June 1990) The book tells the story of the public and private life of John Tyler, appraises his character, and reveals his rightful place in the history of the United States. Despite the calumnies hurled against him by his political enemies and repeated by some modern historians, President Tyler stands forth from this study as a statesman of ability, courage, and honesty, entitled to considerably more credit than is usually accorded him for the notable measures of his administration, especially the negotiations that led to a settlement of the northeast boundary controversy and the annexation of Texas. The book presents all the evidence now available that has any significant bearing on the century-old dispute as to the part played by Tyler in the bank controversy with the Whigs.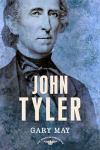 John Tyler
Gary May
John Tyler, by Gary May. 208 pages. Publisher: Times Books (December 9, 2008) When William Henry Harrison died in April 1841, just one month after his inauguration, Vice President John Tyler assumed the presidency. It was a controversial move by this Southern gentleman, who had been placed on the fractious Whig ticket with the hero of Tippecanoe in order to sweep Andrew Jackson's Democrats, and their imperial tendencies, out of the White House..
Soon Tyler was beset by the Whigs' competing factions. He vetoed the charter for a new Bank of the United States, which he deemed unconstitutional, and was expelled from his own party. In foreign policy, as well, Tyler marched to his own drummer. He engaged secret agents to help resolve a border dispute with Britain and negotiated the annexation of Texas without the Senate's approval. The resulting sectional divisions roiled the country.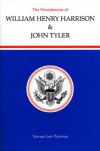 The Presidencies of William Henry Harrison and John Tyler, by Norma L. Peterson. 329 pages. Publisher: University Press of Kansas (June 1989) Wearied by the hotly contested "Log Cabin and Hard Cider" campaign that unseated the Democratic incumbent, Martin Van Buren, Harrison succumbed to pneumonia after only one month in office, the first chief executive to die in the White House. His death precipitated a governmental crisis, which Vice President John Tyler promptly resolved--to the consternation of his Whig Party--by claiming the office and title of president, thus setting a precedent that only later was codified in the Twenty-fifth Amendment to the Constitution.
Instead of the pliable Harrison, the Whigs confronted in Tyler a tenacious defender of presidential prerogative and a formidable foe of their plan to establish congressional supremacy over the executive branch. Threatened with impeachment, repeatedly exhorted to resign, banished from the Whig Party, abandoned by his cabinet, and burned in effigy, Tyler stood firm and maintained the integrity of the presidential office.