---
William Henry Harrison (1773-1841)
In Article II, Section 1 of the Constitution of the United States of America, the following requirements are stipulated for those wishing to hold the office of the President of the United States.
No person except a natural born Citizen, or a Citizen of the United States, at the time of the Adoption of this Constitution, shall be eligible to the Office of President; neither shall any Person be eligible to that Office who shall not have attained to the Age of thirty-five Years, and been fourteen Years a Resident within the United States.
9th President of the United States (1 month, 1941)
"Give him a barrel of hard cider and settle a pension of two thousand a year on him, and my word for it," a Democratic newspaper foolishly gibed, "he will sit ... by the side of a 'sea coal' fire, and study moral philosophy. " The Whigs, seizing on this political misstep, in 1840 presented their candidate William Henry Harrison as a simple frontier Indian fighter, living in a log cabin and drinking cider, in sharp contrast to an aristocratic champagne-sipping Van Buren.
Harrison was in fact a scion of the Virginia planter aristocracy. He was born at Berkeley in 1773. He studied classics and history at Hampden-Sydney College, then began the study of medicine in Richmond.
Suddenly, that same year, 1791, Harrison switched interests. He obtained a commission as ensign in the First Infantry of the Regular Army, and headed to the Northwest, where he spent much of his life.
William Henry Harrison:
Source: University of Virginia: Miller Center of Public Affairs, William Henry Harrison, 28 November 2009 <www.millercenter.virginia.edu>.
9th President of the United States
Born:
February 9, 1773 at Berkeley plantation, Charles City County, Virginia.
Nickname:
"Old Tippecanoe," "Old Tip"
Education:
Hampden-Sydney College (graduated 9999)
Religion:
Episcopalian
Marriage:
November 25, 1795, to Anna Tuthill Symmes (1775-1864)
Children:
Elizabeth Bassett (1796-1846), John Cleves Symmes (1798-1830), Lucy Singleton (1800-1826), William Henry (1802-1838), John Scott (1806-1840), Mary Symmes (1809-1842), Carter Bassett (1811-1839), Anna Tuthill (1813-1865), James Findlay (1814-1817)
Career:
Soldier
Political Party:
Whig
President:
1 Month, 1841
Age at inauguration:
68
Died:
April 4, 1841 in Washington, District of Columbia.
Interred:
William Henry Harrison Memorial State Park, North Bend, Ohio.
In the campaign against the Indians, Harrison served as aide-de-camp to General "Mad Anthony" Wayne at the Battle of Fallen Timbers, which opened most of the Ohio area to settlement. After resigning from the Army in 1798, he became Secretary of the Northwest Territory, was its first delegate to Congress, and helped obtain legislation dividing the Territory into the Northwest and Indiana Territories. In 1801 he became Governor of the Indiana Territory, serving 12 years.
His prime task as governor was to obtain title to Indian lands so settlers could press forward into the wilderness. When the Indians retaliated, Harrison was responsible for defending the settlements.
The threat against settlers became serious in 1809. An eloquent and energetic chieftain, Tecumseh, with his religious brother, the Prophet, began to strengthen an Indian confederation to prevent further encroachment. In 1811 Harrison received permission to attack the confederacy.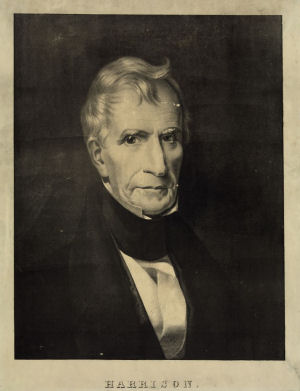 William Henry Harrison [between 1830-1850?]
Library of Congress Prints and Photographs Division
Digital ID: cph 3b35958
While Tecumseh was away seeking more allies, Harrison led about a thousand men toward the Prophet's town. Suddenly, before dawn on November 7, the Indians attacked his camp on Tippecanoe River. After heavy fighting, Harrison repulsed them, but suffered 190 dead and wounded.
The Battle of Tippecanoe, upon which Harrison's fame was to rest, disrupted Tecumseh's confederacy but failed to diminish Indian raids. By the spring of 1812, they were again terrorizing the frontier.
In the War of 1812 Harrison won more military laurels when he was given the command of the Army in the Northwest with the rank of brigadier general. At the Battle of the Thames, north of Lake Erie, on October 5, 1813, he defeated the combined British and Indian forces, and killed Tecumseh. The Indians scattered, never again to offer serious resistance in what was then called the Northwest.
Thereafter Harrison returned to civilian life; the Whigs, in need of a national hero, nominated him for President in 1840. He won by a majority of less than 150,000, but swept the Electoral College, 234 to 60.
When he arrived in Washington in February 1841, Harrison let Daniel Webster edit his Inaugural Address, ornate with classical allusions. Webster obtained some deletions, boasting in a jolly fashion that he had killed "seventeen Roman proconsuls as dead as smelts, every one of them."
Webster had reason to be pleased, for while Harrison was nationalistic in his outlook, he emphasized in his Inaugural that he would be obedient to the will of the people as expressed through Congress.
But before he had been in office a month, he caught a cold that developed into pneumonia. On April 4, 1841, he died--the first President to die in office--and with him died the Whig program.
Source: The White House: Presidents, William Henry Harrison 27 November 2009 <www.WhiteHouse.gov>.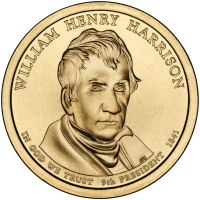 U.S. Mint Image

Presidential Dollars
Collector's Archive
The fifth U.S. President to hail from Virginia, William Henry Harrison was born in 1773. When he was a small child, his father, Benjamin Harrison, signed the American Declaration of Independence. During a distinguished Army career, Harrison served as secretary of the Northwest Territory and governor of the Indiana Territory. He gained national fame and the nickname "Old Tippecanoe" from victories at the Battle of Tippecanoe and the Battle of the Thames against American Indians led by Shawnee chief Tecumseh.
Harrison served in the Ohio State Senate, as a U.S. Representative and Senator from Ohio, and as U.S. minister to Colombia. In 1840, the Whig party tapped Harrison to run against incumbent President Martin Van Buren, who had become unpopular because of a lingering economic depression. "Tippecanoe and Tyler Too" (John Tyler was the vice presidential candidate) became the first and still one of the most memorable of presidential campaign slogans. Harrison defeated Van Buren in a landslide. At 68, Harrison was the oldest president to have served in the office up until that time.
In a bracing March rainstorm, Harrison gave the longest inaugural speech in U.S. history, lasting an hour and 45 minutes. Wearing neither hat nor coat, he caught a severe cold from the long exposure to the elements. Shortly thereafter, he developed pneumonia. He died exactly one month after his inauguration, becoming the first president to die in office.
Harrison's grandson, Benjamin Harrison, later became the 23rd President of the United States.
Coinage Legislation under President William H. Harrison
No coinage legislation was enacted under President Harrison.
United States Mint Directors appointed by President William H. Harrison
President William Henry Harrison did not appoint a Director of the United States Mint.
Source: The United States Mint, William Henry Harrison Presidential $1 Coin. 27 November 2009 <www.USMint.gov>
Presidential state dollars: Information about design of the Presidential $1 Coins.
Presidential $1 Coins: Release information regarding the Official U.S. Mint Presidential $1 Coins.
Additional Information

The Presidents
Collection DVD
United States Presidents: List of all United States Presidents from NETSTATE.COM.
William Henry Harrison America's Story from America's Library, the Library of Congress.
American Presidents: Life Portraits A Site to Complement C-SPAN's 20th Anniversary Television Series, American Presidents: Life Portraits.
William Henry Harrison (1773 - 1841) American President: An Online Reference Resource from the Miller Center of Public Affairs, University of Virginia. In-depth information reviewed by prominent scholars on each President and administration.
Presidential Inaugurations: William Henry Harrison Presidential Inaugurations is presented by the Library of Congress, and other governmental departments, in collaboration with the Avalon Project at the Yale Law School. This presentation includes diaries and letters of presidents and of those who witnessed inaugurations, handwritten drafts of inaugural addresses, broadsides, inaugural tickets and programs, prints, photographs, and sheet music.
William H. Harrison: Biographical information about William Henry Harrison at OhioHistoryCentral.org and the Ohio Historical Society.
Senator William Henry Harrison (1825-1828): Biographical information from the Biographical Directory of the United States Congress.
Grouseland: National Historic Landmark: Grouseland is the elegant Georgian home built in 1803 by William Henry Harrison when he was Governor of the Indiana Territory. A National Historic Landmark, the house was more than a residence. This magnificent building was the center of government for the Indiana Territory and also served as a fortress in times of unrest. Harrison was elected ninth President of the United States in 1840, so the home is a Presidential site and exhibits contain colorful campaign memorabilia.

Deluxe Presidential
Dollar Coin
Traveling Archive
Deluxe Presidential Dollar Coin - Traveling Archive , Whitman Publishing (August 7, 2007) Lift off the capsule top, insert the coin, and snap it shut. Now your Presidential dollar is securely stored and attractively displayed - you can even see the coins's edge, which includes the date, mintmark, and inscriptions. Space for both Philadelphia and Denver Mint Coins. Includes Presidential facts printed on the inside flaps. Holds 80 coins - makes a great display and storage unit. (13.375" x 11.5" x 1.0").

Presidential Dollars
Collector's Archive
Presidential Dollars Collector's Archive, Whitman Publishing (August 7, 2007) In December 2005, Congress approved the creation of a new dollar coinage, known as Presidential dollars, and President George W. Bush signed the legislation into law shortly afterward. During each year from 2007 to 2016, four different dollar designs, each bearing the image of a different president, are being released. Living presidents, both current and former, are excluded from the program--thus the roster of presidential honorees currently stands at 37. For these presidents, 38 coins are planned; this is because Grover Cleveland, who to date is the only president to serve multiple nonconsecutive terms, will be represented with two coins. The Presidential dollars are part of the Golden Dollar Program and retain the same golden color as the Sacagawea dollars. The motto IN GOD WE TRUST appears in edge lettering--a first for a U.S. coin, as the motto has never before appeared on the rim. The year of issue is likewise on the rim. Archive Size 11.25" x 10". 40 Openings.

Presidential Folder
Volume I
Presidential Folder 4 Panel - Volume I and Vol II, Whitman Publishing; 1st edition (April 10, 2007) Presidential Folder 4 Panel - Volume I & II Hold P&D Mint Marks. Folder Size 7" x 9,5". Each Volume has 44 Openings - 4 Panels.


William H. Harrison
Mike Venezia
William Henry Harrison (Getting to Know the US Presidents), by Mike Venezia. 32 pages. Publisher: Children's Press(CT) (September 2004) Reading level: Grades 3-4. Mike Venezia mixes facts with humor to introduce the presidents of the United States to students. This unique introduction highlights the life and times of President William Henry Harrison. Venezia uses funny and serious anecdotes to help students understand and realize that presidents are very real people. On each page is either a painting, an engraving, a map, a portrait, or a comical caricature that enhances the text. Captions are included with each that explains the historical paintings and portraits. For reports or pleasure, students will enjoy.


William H. Harrison
America's 9th President
Steven Otfinoski
William Henry Harrison: America's 9th President, by Steven Otfinoski. 112 pages. Publisher: Scholastic Library Publishing (September 2003) Reading level: Grades 6-8. Details the childhood, military and political career, short presidency, untimely death, and legacy of America's ninth president. A brief "Fast Facts" includes: time line, glossary, historic sites, Web sites, and index. Books for further reading. Tables of all the presidents noting dates of office, birth, and death, and birth-place.


Old Tippecanoe
Freeman Cleaves
Old Tippecanoe: William Henry Harrison and His Time, by Freeman Cleaves. 422 pages. Publisher: American Political Biography Press (June 1990) William Henry Harrison, ninth President of the United States, has been sadly neglected. Freeman Cleaves, after years of scholarly study, has cleared away the misconceptions which obscured Harrison's fame, and gives us a warm, human account of a truly great hero. Harrison's victory over the Indians at the Battle of Tippecanoe, and his battle for the Presidency in 1840, with its campaign slogan of "Tippecanoe and Tyler too," are well known, but they are only two episodes in a colorful life.
Freeman Cleaves has done a careful, impartial, and worthy biography of a great American soldier and gentleman, of the hero lovingly referred to by his devoted followers as "Old Tippecanoe." Every one interested in the epic story of America will do well to read it.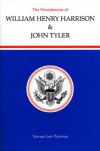 The Presidencies of William Henry Harrison and John Tyler, by Norma L. Peterson. 329 pages. Publisher: University Press of Kansas (June 1989) Wearied by the hotly contested "Log Cabin and Hard Cider" campaign that unseated the Democratic incumbent, Martin Van Buren, Harrison succumbed to pneumonia after only one month in office, the first chief executive to die in the White House. His death precipitated a governmental crisis, which Vice President John Tyler promptly resolved--to the consternation of his Whig Party--by claiming the office and title of president, thus setting a precedent that only later was codified in the Twenty-fifth Amendment to the Constitution.
Instead of the pliable Harrison, the Whigs confronted in Tyler a tenacious defender of presidential prerogative and a formidable foe of their plan to establish congressional supremacy over the executive branch. Threatened with impeachment, repeatedly exhorted to resign, banished from the Whig Party, abandoned by his cabinet, and burned in effigy, Tyler stood firm and maintained the integrity of the presidential office.