HOME
INTRO
SYMBOLS
ALMANAC
ECONOMY
GEOGRAPHY
STATE MAPS
PEOPLE
FORUM
NEWS
COOL SCHOOLS
STATE QUIZ
STATE LINKS
BOOK STORE
MARKETPLACE
GUESTBOOK
CONTACT US


---
Double click on word for definition.
Vermont State Amphibian
Northern Leopard Frog
Rana pipiens
Adopted:
April 21, 1998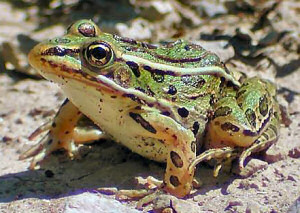 Vermont State Amphibian: Northern Leopard Frog
In the summer of 1996, the Vermont Department of Environmental Conservation (DEC) received reports of abnormal frogs from twelve different locations within the Lake Champlain Basin. Moved to action by these reports, the Vermont DEC surveyed four of the sites. Abnormalities were discovered at all of the sites and all of the abnormalities were found in that year's hatch of Northern Leopard Frogs (Rana pipiens). Of 240 frogs collected, a little over 13% suffered from obvious problems such as missing or stunted limbs.
More research was prompted and, in 1997, the Vermont DEC joined with the United State Environmental Protection Agency (USEPA), the United States Fish and Wildlife Service (USFWS), the United States Geological Survey's Biological Resource Department (USGS-BRD) and Middlebury College to target further studies of the Northern Leopard Frog in Vermont. During a 1997 survey of over 2,500 frogs, about 8% displayed some abnormalities not caused by viruses, bacteria or parasites. The abnormalities were mostly missing or stunted hind legs and toes.
These studies appear to have prompted the Vermont Legislature to afford special recognition of the Northern Leopard Frog as the official state amphibian of Vermont. Citing this frog's value to the state, Senate Bill No. 241, sponsored by Senator Elizabeth Ready, states,
Introduced on January 6, 1998, Senate Bill No. 241, designating the Northern Leopard Frog (Rana pipiens) the official state amphibian of Vermont was approved by the Senate on January 27, 1998 and by the House of Representatives on April 9, 1998. Governor Howard Dean signed the legislation on April 21, 1998 with an effective date of July 1, 1998.
"A healthy northern leopard frog population is desirable in Vermont, and is threatened by loss of habitat and deformities that may be related to changes in the environment. Environmental problems that affect frogs could be a warning about further impacts upon other species, including humans. The colors of the northern leopard frog represent the beauty of our state during all seasons. Ponds are an attractive part of Vermont's landscape and the northern leopard frog helps control the number of insects and pests in our state's ponds. It also helps keep Vermont's pristine wetlands clean by eating algae. For all of these reasons, the general assembly finds it appropriate to designate the northern leopard frog as the state amphibian."
About the Northern Leopard Frog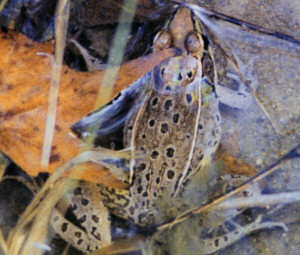 Vermont State Amphibian: Northern Leopard Frog
The Northern Leopard Frog Rana pipiens is common throughout the northern United States and Canada. A medium-sized frog growing to be 3 1/2 inches long, the attractive Leopard Frog can be found throughout Vermont. Rana pipiens is green to brown or both and it's quite obvious where its name comes from. They are covered with roughly circular dark spots like those of a leopard. These spots are surrounded with a narrow light-colored border. Two most noticeable light colored lines extend from over each eye to the hind legs of the frog. These are lines of raised skin called "dorsolateral folds". Their bellies are colored a creamy white.
Northern Leopard Frogs may be found in various wet habitats, like marshes, ponds, lakes, rivers, or streams. In the summer, they may roam a little further afield, venturing into fields or pastures in search of their favorite meals. Because of this, they are sometimes referred to as Meadow Frogs.
Like their larger cousins, honored in Missouri and Oklahoma, Northern Leopard Frogs are opportunistic feeders. That is, they sit and wait to eat almost anything moving that will fit into their mouths. Most of their diet consists of insects although they will eat worms, snails and slugs and even smaller frogs. Northern Leopard Frogs may occasionally eat voles and birds and researchers have found garter snakes in the stomachs of large frogs.
While Northern Leopard Frogs are widely spread, they are suffering from maladies as mentioned above and their numbers are declining, for various reasons, across the country. In Canada, the species has been defined as endangered. Scientists have noted that their lifespan has declined to about two years from three to four years. There is cause for concern.
Vermont Law
The following information was excerpted from the Vermont Statutes Annotated, Title 1, Chapter 11.
TITLE 1. General Provisions.
CHAPTER 11. FLAG, INSIGNIA, SEAL, ETC.
SECTION 511. State amphibian.
§ 511. State amphibian
The state amphibian shall be the northern leopard frog.
(Added 1997, No. 126 (Adj. Sess.), § 2, eff. April 21, 1998.)
Additional Information
Lithobates pipiens Northern Leopard Frog: The Vermont Reptile & Amphibian Atlas.
Northern Leopard Frog (Rana pipiens): U.S. Forest Service [PDF]
Northern Leopard Frog- Rana pipiens: New Hampshire Public Television: Wildlife Journal, Junior.
Species Profile: Northern Leopard Frog

: United States Environmental Protection Agency.
Rana pipiens Northern Leopard Frog: University of California, Berkley: AmphibiaWeb.
Vermont Malformed Frogs: Information at Vermont's Department of Environmental Conservation regarding malformed frogs.
Rana pipiens (northern leopard frog): University of Michigan Museum of Zoology: Animal Diversity Web.
Rana pipiens: CalPhoto photographs. The Biodiversity Sciences Technology group (BSCIT), a part of the Berkeley Natural History Museums at the University of California, Berkeley.
State amphibians: Complete list of official state amphibians from NETSTATE.COM.
More symbols & emblems: Complete list of official Vermont state symbols from NETSTATE.COM.
What is an Amphibian? (The Science of Living Things) , by Bobbie Kalman and Jacqueline Langille, 32 pages, Crabtree Publishing Company (2000). Reading level: Ages 9-12. The large, full-color photographs and illustrations that pepper every page of these books will catch the eye of browsers but it is the informative, easy-to-read texts that will hold their interest.
Peterson First Guide to Reptiles and Amphibians , by Robert C. Stebbins, Joseph T. Collins and Roger Conant. Edited by Roger Tory Peterson. 128 pages, Houghton Mifflin Harcourt (April 15, 1999). From mudpuppies to rattlesnakes, this fascinating guide for young nature lovers describes the habits and habitats of these secretive and sometimes bizarre animals, and includes tips on how to catch and care for frogs, snakes, turtles, lizards, salamanders, and toads.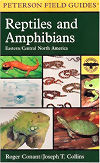 A Field Guide to Reptiles & Amphibians of Eastern & Central North America, by Roger Conant and Joseph T. Collins, 640 pages, Houghton Mifflin Harcourt; Fourth Edition edition (May 15, 1998). This newly designed field guides features detailed descriptions of 595 species and subspecies. The 656 full-color illustrations and 384 drawings show key details for accurate identification. More than 100 color photographs and 333 color photographs and 333 color distribution maps accompany the species descriptions.
Firefly Encyclopedia of Reptiles and Amphibians, edited by Tim Halliday and Kraig Adler, 240 pages, Firefly Books (September 7, 2002). With lush color photographs and lavishly detailed illustrations, this encyclopedia presents a striking abundance of information at a glance. Also noteworthy is the scholarly text, a comprehensive overview of these frequently studied phyla.
Frogs, Toads, and Treefrogs: Everything About Selection, Care, Nutrition, Breeding, and Behavior, by R. D. Bartlett and Patricia P. Bartlett. 104 pages. Barron's Educational Series (February 1, 1996) This manual includes detailed instructions for maintaining a proper terrarium, taking preventative measures against parasites and disease, ensuring a healthful diet for your amphibians, profiles of popular species, and more.
Reptiles & Amphibians for Dummies, by Patricia Bartlett, 360 pages, For Dummies; 1st edition (June 1, 2003) This essential guide tells you what you must know before you own a reptile or amphibian, with authoritative advice on everything from proper caging and feeding to health care, socializing, transporting, and more. You'll find out about the different species, normal and abnormal behavior, the basics of breeding, and complying with laws.