Additional Information


Vermont
Jan M. Czech
Vermont (From Sea to Shining Sea), by Jan M. Czech. 80 pages. Publisher: Scholastic Library Publishing (September 2002) Reading level: Grades 3-5. Presents information about Vermont's people, geography, history, landmarks, natural resources, government, state capitol, towns and cities, and more.


Vermont
Michael E. Flocker
Vermont (World Almanac Library of the States), by Michael E. Flocker. 48 pages. Gareth Stevens Publishing (August 2002) Reading level: Grades 4-6. Filled with the most up-to-date information, including the latest Census results. Full-color photos bring to life the story of Vermont. In addition to an in-depth factual profile of Vermont in the form of a state Almanac, this book offers fascinating and lively discussions of the state's history, people, geography, government, economy, culture, and lifestyles. A section on Notable People, a calendar of events, and enough primary source documents, time lines, maps, and other tools to make this unquestionably the best young adult reference material on the USA available anywhere.

The Vermont
Encyclopedia
The Vermont Encyclopedia, edited by John J. Duffy, Samuel B. Hand & Ralph H. Orth. 352 pages. Publisher: University Press of New England (August 1, 2003) The Vermont Encyclopedia will provide Vermonters and other readers interested in or attracted to this place a one-volume collection of information on some of Vermont's most noteworthy people, places, events, natural features, organizations, artifacts, flora and fauna, and it will help them verify a name, date, or fact, enliven a discussion, strengthen an argument, write a report, proposal, or student paper, or just learn something interesting. The editors subscribe to the notion that knowing Vermont today is enhanced by knowing the who, why, and when of how it came to be as it is, so The Vermont Encyclopedia both looks back in time and attends to the present. It is an historical dictionary and a current report.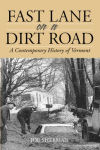 Fast Lane
on a Dirt Road
Joe Sherman
Fast Lane on a Dirt Road: A Contemporary History of Vermont, by Joe Sherman. 256 pages. Publisher: Chelsea Green Publishing (July 23, 2008) Nestled between Montreal, Boston, and New York City exists a magic land called "Vermont." It's a state of the union, a state of mind, a state of grace, and a state of confusion and contradiction. Because of its beauty, its scale, and its depth of culture, Vermont is truly a perfect state.
The image of Vermont that leaps off the pages of Vermont Life is one of rolling hills, small villages, white churches with soaring steeples, town meetings, and blazing foliage. But there is another side of "A Perfect State," a complex composite of dirt roads turned to Mud Season quagmires, sharply divided citizens who cannot find common ground on critical issues such as school financing, gay marriage, environmental protection, and development.


Vermont Life
Magazine
Vermont Life, Vermont Life magazine celebrates the people, lifestyle, heritage and unequaled beauty of the state which defines New England. Its color photography and award-winning stories delight both residents and visitors alike. It is the winner of many national awards and widely read and accepted by Vermonters.


Vermont Magazine
Magazine
Vermont Magazine, Vermont Magazine delivers a blend of historic, traditional and contemporary Vermont in extraordinary words and exceptional photographs, with a new issue published every two months and an annual special issue, Weddings, that has become a definitive planning guide.