Vermont State Bird
| | | |
| --- | --- | --- |
| Hermit Thrush | Catharus guttatus | Adopted:1941 |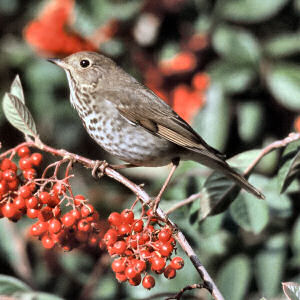 Vermont State Bird: Hermit Thrush (Catharus guttatus)
Credit: Lee Karney, U.S. Fish and Wildlife Service
Adoption of the Vermont State Bird
As in so many states, the Vermont Federated Women's Clubs played a part in the adoption of the Vermont state bird. They adopted, in 1927, the hermit thrush (Hylocichla gutta pallasi) as their state bird.
It was not so easy for the hermit thrush to gain status as the official state bird of Vermont. According to the Vermont Legislative Directory and State Manual, Biennial Session, 1993-1994:
"Among other things, it was not considered a true Vermonter because, unlike the blue jay or crow (which were favored by some legislators), the Hermit Thrush leaves Vermont during the winter in its southward migration. The record is not clear, but this bird was selected to represent Vermont, among other things, because it has a distinctive sweet call, and because it is found in all of Vermont's 14 counties."
The hermit thrush was adopted as the official state bird of Vermont by an act of the Legislature in 1941, effective June 1, 1941.
The Vermont Statutes
The following information is excerpted from the Vermont Statutes, Title 1, Chapter 11, Section 497.
Title 1: General Provisions.
Chapter 11: FLAG.
1 V.S.A. § 497. State bird.

§ 497. State bird
The state bird shall be the hermit thrush.
Additional Information
Catharus guttatus (Hermit Thrush): University of Michigan Museum of Zoology: Animal Diversity Web.
Important Vermont Bird Areas: from the Vermont Audubon Society.
State Bird List: List of all of the state birds.
A Field Guide to the Birds of Eastern and Central North America: Peterson Field Guide: Roger Tory Peterson.
State Birds & Flowers 1000-pc Puzzle: Created at the request of The National Wildlife Federation this design is a beautiful and informative puzzle featuring every state bird perched on the appropriate state flower.
Bird Feeders and Accessories: Backyard Birding > Bird Feeders & Accessories from Amazon.com.
State Names, Seals, Flags, and Symbols: A Historical Guide, Third Edition - Benjamin F. Shearer and Barbara S. Shearer, Greenwood Press, 2002
State Names, Flags, Seals, Songs, Birds, Flowers and Other Symbols: A Study based on historical documents giving the origin and significance of the state names, nicknames, mottoes, seals, flowers, birds, songs, and descriptive comments on the capitol buildings and on some of the leading state histories, Revised Edition - George Earlie Shankle, Ph.D., The H.W. Wilson Company, 1938 (Reprint Services Corp. 1971)
---
Source: Vermont Statutes Online, (http://www.leg.state.vt.us/statutes/statutes2.htm), April 15, 2005
Source: State Names, Seals, Flags, and Symbols: A Historical Guide, Third Edition - Benjamin F. Shearer and Barbara S. Shearer, Greenwood Press, 2002
Source: State Names, Flags, Seals, Songs, Birds, Flowers and Other Symbols: Revised Edition (Reprint)- George Earlie Shankle, Ph.D., The H.W. Wilson Company, 1938