---
Vermont State Warm Water Fish
Walleye Pike
Stizosedion vitreum vitreum
Adopted:
May 3, 1978, April 13, 2012
Adoption of the Vermont State Warm Water Fish
Joint Resolution R-91 of the Acts of 1978, effective on May 3, 1978, designated not one but two State Fishes: the Brook Trout (Salvelinus fontinalis) as the cold water fish, and the Walleye Pike (Stizosedion vitreum vitreum) as the warm water fish. Both are handsome, sporty and tasty game fish. The Brook Trout is the state's only trout native to its streams. Its mature weight varies considerably, depending on habitat in both cold brooks and ponds, but generally averages under a pound. The biggest Brook Trout caught in Vermont since official records began in 1969 weighed 5 lbs. 12 oz. The Walleye Pike, found in many Vermont lakes, takes its name from its unusual "marble" eyes which in certain light look very light or transparent. Its mature weight is four to eight pounds and the biggest one caught since 1969 weighed 12 lbs. 8 oz.
------- from Office of the Secretary of State, Vermont Legislative Directory and State Manual, Biennial Session, 1993-1994, p. 18.
Additional Information
Stizostedion vitreum (walleye): University of Michigan Museum of Zoology: Animal Diversity Web.
Sander vitreus (Mitchill, 1818): Froese, R. and D. Pauly. Editors. 2008.FishBase. World Wide Web electronic publication. www.fishbase.org, version (12/2008).
Stizostedion vitreum (Mitchill, 1818): Integrated Taxonomic Information System (ITIS) Here you will find authoritative taxonomic information on plants, animals, fungi, and microbes of North America and the world..
Sander vitreus - (Mitchill, 1818): NatureServe Explorer: An Encyclopedia of Life.
State Fish: Complete list of official state Fish.
More symbols & emblems: Complete list of official Vermont state symbols.
Fishing in Vermont: The Vermont Fish & Wildlife Department.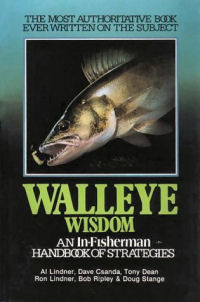 Walleye Wisdom:
An In-Fisherman Handbook of Strategies
Walleye Wisdom: An In-Fisherman Handbook of Strategies, 280 pages. In-Fisherman (February 1, 1983) This book has it all from time to fish for them to how and where. The ins and outs of jigging, rigging, live bait, crankbaits. All the stuff you need trolling, driffting, and also all the equimpment for all types of walleye fishing. If you don't catch more walleye with this book than you did not read it.
Successful Walleye Fishing, by Dick Sternberg. 160 pages. Creative Publishing international (March 1, 1999) Learn to rig your boat, choose the right rods, reels, lines and lures, and how to use the latest electronics. The combination of underwater, overhead, and how-to photography makes it easier than ever to understand the basics of catching walleye. Even if the fish are hiding in the weeds or the weather isn't ideal, this book will improve your success on the water.
Pro Tactics: Walleye, by Mark Martin. 144 pages. The Lyons Press (April 15, 2008) In this expertly written book, pro angler Mark Martin shares never-before-published advice for catching the big ones, including insider tips and techniques by season. See how to trick out your boat and the importance of breaklines in spring. Discover how to adjust for water depth and use live bait in summer. Find out the importance of location, location, location-and learn how to work weed beds in the fall.
What Fish Don't Want You to Know: An Insider's Guide to Freshwater Fishing, by Frank P. Baron. 176 pages. International Marine/Ragged Mountain Press; 1 edition (August 27, 2003) Anyone can toss a line into the water and get lucky once in a while, but if you want to catch more and bigger fish and have more fun doing it, you need to learn What Fish Don't Want You to Know. Whether you're new to fishing or an accomplished angler, this comprehensive and entertaining guide will improve your chances every time you cast a line into fresh water.
A Field Guide to Freshwater Fishes, by Lawrence M. Page, Brooks M. Burr. 440 pages. Houghton Mifflin Harcourt (January 1, 1991) The first comprehensive field guide to freshwater fishes - covers all 790 species known in the United States and Canada. More than 700 illustrations, most in color, show identifying marks. Also includes 377 distribution maps and additional drawings of key details.
Ken Schultz's Field Guide to Freshwater Fish, by Ken Schultz. 272ges. Wiley; illustrated edition edition (December 29, 2003) From one of the most respected names in the world of sportfishing comes the definitive, full-color guide to 140 of the most common freshwater fish species found in North American rivers, lakes, and streams. Featuring information on identification, habitat, size, and diet, Ken Schultz's Guide to Freshwater Fish is a must for anglers and sportfishing enthusiasts everywhere.
Complete line of fishing equipment
including rods, reels, rod and reel combinations, fly fishing gear, bait and spin casting rods and reels, ice fishing equipment, lures and flies, and other accessories. All major brands.
Custom Search