---
Vermont State Marine Fossil
White Whale fossilized skeleton
Delphinapterus leucas
Adopted:
May 05, 2014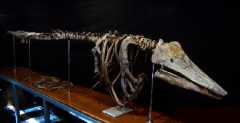 Official State Fossil: White Whale
Delphinapterus leucas
The particular skeletal remains known as Charlotte or the Charlotte whale, named for the town where it was discovered, became the official state fossil of Vermont when Governor Howard Dean signed House Bill No. 236 at a ceremony at the Charlotte Central School in Charlotte, Vermont.
The white whale (Delphinapterus leucas) was designated the state fossil by Act No. 66 (1993). It is a toothed whale recognized by its brilliant white to grey-white color, prominent forehead knob or "melon", and lack of a dorsal fin. The Charlotte whale was uncovered during construction of the first railroad between Rutland and Burlington in 1849. This specimen dates from approximately 12,500 years ago when the Atlantic Ocean flooded the Champlain Basin, which was depressed below sea level by huge glacial ice sheets, inundating it with marine waters. For 2500 years following that, this region existed as an arm of the Atlantic Ocean known as the Champlain Sea. This particular whale contains the most complete post-cranial remains of the Champlain specimens yet found.
------- from Office of the Secretary of State,
Vermont Legislative Directory and State Manual,
Biennial Session, 1993-1994, p. 24.
And then there were two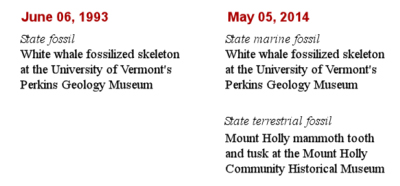 Vermont official fossil names and timeline
The State of Vermont declared an additional official state fossil in 2014.
House Bill No. 589 stipulated that the Mount Holly mammoth tooth and tusk at the Mount Holly Community Historical Museum was to be the official "state terrestrial fossil."
In order to more precisely differentiate Vermont's two fossils, the same bill designated the white whale fossilized skeleton, adopted as the official "state fossil" in 1993, the official "state marine fossil."
House Bill No. 589 was signed into law, by Governor Peter Elliott Shumlin, on May 05, 2014.
The skeletal remains of the white whale (Charlotte whale) are held by University of Vermont's Perkins Geology Museum.
Vermont Law
The following information was excerpted from the Vermont Statutes Online, title 1, chapter 11, section 509.
Title 1: General Provisions
Chapter 11: FLAG, INSIGNIA, SEAL, ETC.
1 V.S.A. § 509. State fossil
§ 509. State fossil
The state fossil shall be the white whale fossilized skeleton at the University of Vermont's Perkins Geology Museum. (Added 1993, No. 66, § 1, eff. June 6, 1993.)
Additional Information
Charlotte, The Vermont Whale: By Wesley Wright, Jeff Howe and Enterprise Technology Services, University of Vermont.
Beluga Whales, Delphinapterus leucas: MarineBio Conservation Society.
Delphinapterus leucas (Pallas, 1776): Convention on Migratory species, whales and dolphins.
Delphinapterus leucas (Beluga): Smithsonian Museum of Natural History - North American Mammals.
Delphinapterus leucas (beluga): The University of Michigan Museum of Zoology: Animal Diversity Web.
Delphinapterus leucas - (Pallas, 1776), Beluga: A network connecting science with conservation - NatureServe Explorer: An Online Encyclopedia of Life.
Delphinapterus leucas (Pallas, 1776): Integrated Taxonomic Information System (ITIS) Here you will find authoritative taxonomic information on plants, animals, fungi, and microbes of North America and the world.
The Perkins Geology Museum at the University of Vermont: Official website.
State fossils: Complete list of official state fossils from NETSTATE.COM.
More symbols & emblems: Complete list of official Vermont state symbols from NETSTATE.COM.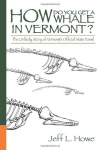 How Do You Get a
Whale in Vermont?
Jeff Howe
How Do You Get a Whale in Vermont? The Unlikely Story of Vermont's Official State Fossil, by Jeff Howe. 170 pages. Publisher: Little Big Trees Press; First edition (February 4, 2014)
In 1849, a gang of railroad workers racing to build the first railroad across Vermont stumbled upon the fossil bones of a mysterious animal buried deep in sticky, blue clay. How did the bones of a small, white whale end up buried ten feet beneath a rural Vermont farm field, two mountain ranges and over 200 miles from the nearest ocean?
This is the story of an ancient whale that captured the imagination of an entire State and went on to become Vermont's official State Fossil.


Stately Fossils
Stephen Brusatte
Stately Fossils: A Comprehensive Look at the State Fossils and Other Official Fossils, by Stephen Brusatte. 234 pages, Fossil News (September 2002) This extensively illustrated volume covers every U.S. state fossil, state dinosaur, and state stone or gem that is a fossil. Taxonomy, morphology, paleoecology, history of discoveries, and even legislative antics are discussed. This is the only book available covering the state fossils.


Beluga Passage
Linda Lingemann
Beluga Passage (Smithsonian Oceanic Collection), by Linda Lingemann. 32 pages. Publisher: Soundprints; 1st edition (September 1996) Reading level: Preschool to grade 2. Beluga Calf and her pod encounter frightening polar bears, sea lions, and orcas on their hunt for food. Will Beluga Calf and her pod survive the many dangers of the ocean? Children can find out as this thrilling adventure unfolds! Reviewed by the Smithsonian Institution for accuracy, Beluga Passage is a fun and informative story with beautifully detailed illustrations.


Beluga Whales
Tony Martin
Beluga Whales (Worldlife Library), by Tony Martin. 72 pages. Publisher: Voyageur Press, Inc.; (September 1996) An engaging introduction to this small, charismatic whale, Beluga Whales explores the beluga's evolution, physical characteristics, distribution, migration, behavior, and social structure.
Belugas, or white whales, are particularly familiar to us as exhibits in captive displays around the world. They are capable of a wide range of bodily and facial expressions. Anthony Martin discusses the practical and moral issues raised by keeping belugas in captivity. Whaling, hunting by native Arctic peoples, and pollution of our seas and waterways is also discussed.
In addition, Martin acquaints readers with whale-watching, providing details of where, when and how to get close to belugas in their natural environment. Lavishly illustrated throughout with the best available images of this photogenic whale, Beluga Whales will appeal to a wide audience of nature lovers.