Vermont Law
The following information was excerpted from the Vermont Statutes Annotated, Title 1, Chapter 11, Section 515.
TITLE ONE. GENERAL PROVISIONS
CHAPTER 11. FLAG, INSIGNIA, SEAL, ETC.
1 V.S.A. § 515 (2012)
§ 515. State heritage livestock breed
The Randall Lineback breed of cattle shall be an official state heritage breed of livestock.
HISTORY: Added 2005, No. 97 (Adj. Sess.), § 2.
Additional Information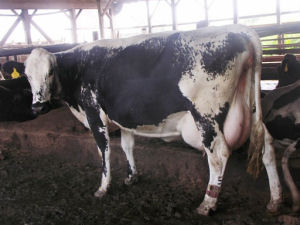 Heritage Breed of Livestock: randall lineback breed of cattle
The Randall Cattle Story: Cynthia Greech's Involvement With The Breed.
Randall Lineback Breed Association: Official website.
The Randall Cattle Breed Registry: Official website.
State mammals: Complete list of official state mammals from NETSTATE.COM
More symbols & emblems: Complete list of official Vermont state symbols from NETSTATE.COM.


The Backyard Cow
Sue Ann Weaver
The Backyard Cow: An Introductory Guide to Keeping a Productive Family Cow, by Sue Ann Weaver. 240 pages. Publisher: Storey Publishing, LLC (February 28, 2012) You don't need acres of land to keep a cow healthy, happy, and productive. You can raise one right in your own backyard, producing more than enough milk for a single family--up to six gallons per day!
The Backyard Cow covers everything you need to know, from selecting the right breed to understanding your cow's behavior; providing shelter, health care, and daily maintenance; grooming; milking; and making cheese, yogurt, and other dairy products from your milk.

Keeping a
Family Cow
Joann S. Grohman
Keeping a Family Cow, by Joann S. Grohman. 180 pages. Publisher: Coburn Pr; 5th edition (2000) This book is intended as an inspirational manual for keeping a family milk cow. A lifetime of practical experience has been bound into one volume. Practical advice for the everyday and procedures for cow emergencies. Plus, answers to FAQ's like, 'Should you get a cow?' and 'How Much Space do I need' etc.

Getting Started with
Beef & Dairy Cattle
Heather Smith Thomas
Getting Started with Beef & Dairy Cattle, by Heather Smith Thomas. 288 pages. Publisher: Storey Publishing, LLC (July 1, 2005) If you've been dreaming about raising a family cow, or even a small herd, here's the book for you! Whether your interest is in beef or dairy farming, veteran cattle farmer Heather Smith Thomas helps you make the experience satisfying, rewarding, and even entertaining!
Beyond general standards and characteristics, Thomas also discusses specific breed attributes — Jerseys, for example, produce milk richer in butterfat than other dairy cattle — and how size, color, body shape, hair length, and milking ability make each animal more or less suitable to various needs. To complement the text, full-color photographs help you identify the many choices.


Grass-Fed Cattle
Julius Ruechel
Grass-Fed Cattle: How to Produce and Market Natural Beef, by Julius Ruechel. 384 pages. Publisher: Storey Publishing, LLC (July 1, 2006) As more consumers discover the benefits of grass-fed beef — sustainability, good taste, and antibiotic-free — demand continues to grow. For any farmer interested in entering this profitable specialty area, here is the first complete manual on raising, caring for, and marketing grass-fed cattle. Author Julius Ruechel includes advice on herd selection, breeding, pasture management, fencing, winter grazing, diseases, equipment, slaughter, labeling, marketing, and financial planning.


The Complete Cow
Sara Rath
The Complete Cow, by Sara Rath. 144 pages. Publisher: Voyageur Press (October 24, 2003) This is a light hearted yet serious look at dairy and beef cows of the world--both familiar and not so familiar.
From ancient myths to a breed encyclopedia to a whimsical look at the fun pop culture surrounding famous cows, this books has it all. It is beautifully illustrated with large format color photos of all breeds and is the first book to feature cows around the globe.
Throughout the book you'll discover all kinds of bovine trivia: how to say "moo," "cow", and "cowpie" in many languages, a fascinating cow migration map, advice on naming your cow, and more.