---
Dbl click any word in
document for definition.
Vermont State Soil
Tunbridge Soil Series
Effective:
March 27, 1985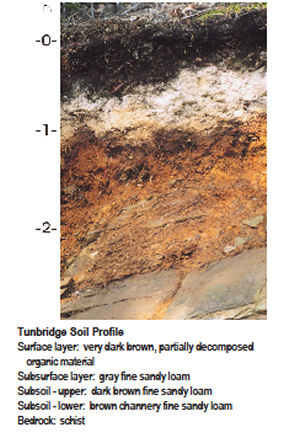 Vermont State Soil: Tunbridge Soil Series
Natural Resources Conservation Service (NRCS)
No. 9 of the Acts of 1985, effective March 27, 1985, designated the Tunbridge Soil Series as the official State Soil.

The Tunbridge series (course-loamy, mixed, frigid Typic Haplothrod) consists of moderately deep to bedrock, well drained soils. It was selected from among more than 160 different soil series in the state. As it is a typical "hill farm" and "sugarbush" soil, the Tunbridge series well represents the soil resources of Vermont. A soil formed in loamy glacial till, it has good potential for agriculture and forestry.

As Professor Richmond Bartlett of UVM says, "It's the soil that makes Vermont hills greener than those either in New Hampshire or New York."
-------from Office of the Secretary of State,
Vermont Legislative Directoryand State Manual,
Biennial Session, 1993-1994, p. 16.
Vermont Law
The following information was excerpted from the Vermont Statutes Annotated, Title 1, Chapter 11, Section 504.
TITLE ONE. GENERAL PROVISIONS
CHAPTER 11. FLAG, INSIGNIA, SEAL, ETC.
1 V.S.A. § 504 (2012)
§ 504. State soil
The state soil shall be the tunbridge soil series.
HISTORY: Added 1985, No. 9, § 1, eff. Mar. 27, 1985.
Additional Information
Vermont's State Soil: United States Department of Agriculture (USDA): Natural Resources Conservation Service (NRCS).
Farmland Classification Systems for Vermont Soils

: June, 2006 - United States Department of Agriculture (USDA): Natural Resources Conservation Service (NRCS).
Soil Education: Soil eduction resources from the USDA's Natural Resources Conservation Service. For all ages.
Soil Society of America: International scientific society that fosters the transfer of knowledge and practices to sustain global soils: based in Madison, Wisconsin.
State soils: Complete list of official state soils from NETSTATE.COM.
More symbols & emblems: Complete list of official Vermont state symbols from NETSTATE.COM.


Dirt
Natalie M. Rosinsky
Dirt: The Scoop on Soil, by Natalie M. Rosinsky. 24 pages. Publisher: Picture Window Books (August 2002) Reading level: Ages 4-8. Discusses the nature, uses, and importance of soil and the many forms of life that it supports.
"Part of the Amazing Science series, this colorfully illustrated picture book introduces components of soil, including humus, clay, silt, sand, and rocks and pebbles; how humus is made from organic material; and how to keep dirt "healthy." A list of experiments, a glossary, and an index are included." --Book Links-Angela Leeper


A Handful
of Dirt
Raymond Bial
A Handful of Dirt, by Raymond Bial. 32 pages. Publisher: Walker Books for Young Readers (May 15, 2000) Reading level: Ages 9-12. Soil may not be alive, but amazingly, multitudes of microscopic creatures live there, battling it out in an eat-or-be-eaten world. These tiny creatures, invisible to our eyes, provide food for the insects that in turn feed the reptiles and mammals that live in and above the soil. You'll never look at the ground you walk on in the same way after Raymond Bial, an award-winning photo essayist, takes you on this eye-opening, down-and-dirty tour of one of the earth's most precious resources.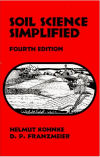 Soil Science Simplified
Soil Science Simplified, by Helmut Kohnke and D.P. Franzmeier. 162 pages. Publisher: Waveland Pr Inc; 4 Sub edition (December 1994) A concise, inexpensive treatment! Soil Science Simplified was written to acquaint students with the basic concepts and scientific principles of soils without the burden of an extensive study. This useful, well-priced handbook includes discussions of soil classification, soil morphology, and soil and the environment. In addition, a chapter on soil surveys helps readers understand soil resources and apply the information presented in soil surveys to managing the soil environment.
Outstanding features: 1) provides essential coverage of factors of soil formation; 2) outlines the most current principles of soil taxonomy; 3) provides an assortment of helpful tables, maps, and line drawings; 4) includes an expanded glossary.

Teaming with Microbes
Teaming with Microbes: The Organic Gardener's Guide to the Soil Food Web, by Jeff Lowenfels and Wayne Lewis. 220 pages. Publisher: Timber Press; Revised edition (February 24, 2010) Smart gardeners know that soil is anything but an inert substance. Healthy soil is teeming with life — not just earthworms and insects, but a staggering multitude of bacteria, fungi, and other microorganisms. When we use chemical fertilizers, we injure the microbial life that sustains healthy plants and become increasingly dependent on an arsenal of artificial, often toxic, substances. But there is an alternative to this vicious cycle. We can garden in a way that strengthens the soil food web — the complex world of soil-dwelling organisms whose interactions create a nurturing environment for plants.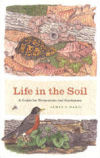 Life in the Soil
James B. Nardi
Life in the Soil: A Guide for Naturalists and Gardeners, by James B. Nardi. 336 pages. Publisher: University Of Chicago Press (October 15, 2007) Leonardo da Vinci once mused that "we know more about the movement of celestial bodies than about the soil underfoot," an observation that is as apt today as it was five hundred years ago. The biological world under our toes is often unexplored and unappreciated, yet it teems with life. In one square meter of earth, there lives trillions of bacteria, millions of nematodes, hundreds of thousands of mites, thousands of insects and worms, and hundreds of snails and slugs. But because of their location and size, many of these creatures are as unfamiliar and bizarre to us as anything found at the bottom of the ocean.
Lavishly illustrated with nearly three hundred color illustrations and masterfully-rendered black and white drawings throughout, Life in the Soil invites naturalists and gardeners alike to dig in and discover the diverse community of creatures living in the dirt below us.